Penny Miller and the students of Penny Miller Cosmetology Academy would like to take this opportunity to welcome aboard two new fellow students! Jenny Cozad, and Katrina Eddy recently joined our team at P.M.C.A.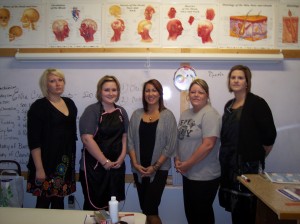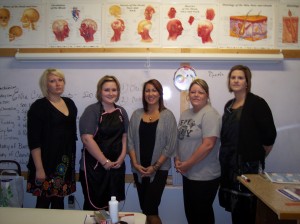 (students shown, L-R, Ashley Frost, Heather Dilbeck, Educator Nicole Pereira, Jenny Cozad, & April Shreve) Not pictured Katrina Eddy & Ashlee Hines.
We are so excited to have these two young women join us.
Jenny is a young wife and mother who is working on her Cosmetology Career, and Katrina is a young mother who has decided to further her career with the Instructor Course.
We wish both of these lovely ladies much success in developing their love for cosmetology and will help them with their educational needs in any way we can. Way to go ladies in choosing a field that is so meaningful to so many!
If you would like more information about joining us at Penny Miller Cosmetology Academy, give us a call at 405-238-3426, we will be glad to help you in any way we can!
Have a blessed day! Penny Miller