Local Students Work on Movie Set
We recently had the great opportunity to have our Staff and Students work on the Movie Set of "Noodling the Film".  We thought this would be a great opportunity to allow students to see what really goes on behind the scenes of a movie production, and get more experience doing hair and makeup.  Each day the staff from Penny Miller Cosmetology Academy attended the morning production meeting, and then the shooting usually began shortly after that. We started on location around 7:oo a.m.  and ended shooting anywhere from 7:oo p.m. to sometimes 3:00 a.m. to get just the right settings.  Location areas varied around Pauls Valley.  Our students worked on set from 8:00 a.m. – 5:00 – our regular hours, and our Staff, Penny Miller and Kristina Miller Martin, worked after hours to get all of the hair and makeup done required for this production.  Our students and staff got many complements on the work they did, and the help they all provided.  It was very informative and interesting seeing all of the work that goes on behind the scene.
Students from P.M.C.A. who worked on the set were as follows: Terra Dodson, Sara Folsom, Teresa Winnett, Shelly Chandler, Maribeth Jones, Brittney Wallace, Becky Ledbetter &  Harlene Ledger. Master Instructors Kristina Martin & Penny Miller who's official title was Head Makeup and Hair, worked many, many hours on the set.
The Movie crew and actors were great to work with and the production was a lot of fun.  Overall I know the students of Penny Miller Cosmetology Academy gained a lot of useful information and experience from working on the set.  We hope everyone enjoys the film, Rebecca and the Crew did a wonderful job on this production.  We enjoyed it all, but on day 8 of production it was wonderful hearing those famous last words, from the director,  "It's a Wrap!"
USC film crew begins shooting in PV
Garvin County News Star Article August 5th, 2010 by Jim Richardson
"Noodling" film writer/director, Rebecca Eskreis, discusses final details with members of the camera crew prior to shooting a scene in the back of Bob's Pig Shop on Monday. News Star photo by Jim Richardson
By Jim Richardson
News Star Writer
Bob's Pig Shop in Pauls Valley has served for the last several years as host site to the annual Okie Noodling Tournament & Fish Fry, so it seemed only right it would be selected as a key location for a recent film about catfish noodling.
The film, simply entitled "Noodling," is the brainchild and college thesis project of USC graduate film student, Rebecca Eskreis.
A New York native, Eskreis said she got the inspiration to do the film from reading an article in the New York Times.
"I came up with the idea to do the film after reading an article that said they had outlawed noodling in Missouri," Eskreis recalled.
Penny Miller, owner of Penny Miller Cosmetology Academy-Phase II in Pauls Valley, applies makeup to Norman resident, Cindy Hanska, prior to Monday's filming of "Noodling" at Bob's Pig Shop. Hanska played the part of Dorothy, a local person who frequents the restaurant where the main character, Jenna, works (News Star Photo by Jim Richardson).
"I thought that was ashamed because noodling has a cultural background and is an important aspect of family tradition for many people. It also defines a rite of passage for some young men.
"I did some research and became fascinated with the subject. I began to imagine what it would be like to grow up in a town like this (Pauls Valley) where noodling was such an integral part of the community and that led to the idea for the film."
The movie, which has been in the making for the last three years, was filmed primarily in Pauls Valley and Bob's Pig Shop was the stop for the film crew on Monday, August 2.
Bob's served as the ideal backdrop for the coming-of-age film about the main character, Jenna, who works as a waitress at a local small-town restaurant and whose father is a champion noodler.
Jenna is played by 17 year-old OKC resident and Heritage Hall Junior, Maddie Perry, and most of the crew members are from Oklahoma including several OU Film and Video interns.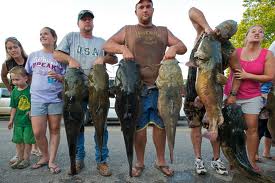 Noodling Tournament in Pauls Valley for 2013 on the weekend of Friday June 21-June 22.  Drop by and see what Noodling is all about!