Beautiful, well shaped brows are in!
What can we say about Eye Brows?   Would you put a cheap frame around a beautiful masterpiece?   Of course not!   The Eye brows  frame  your eyes.  Keep the eyebrows clean, simple and elegant with just a few simple steps.
Cosmetology professionals are well trained in how to shape the brow in the perfect way for your particular face shape.  There are many considerations to be made when shaping your brows, for instance…If you have a larger bone structure – a thicker, heavier brow is needed…if you are petite and delicate, a thinner, finer brow shape may be needed.  Always seek the advice of a trained professional in selecting the perfect shaped brow for you.
Most women get their eyebrows waxed, plucked, threaded, or shaped, again it is best to seek the advice of a pro, but here are a few tips to accent your brows.   An extra way to add a little shape to your face is to fill in your brows with a brow powder or pencil or even a stain.  This is especially important if your brows are sparse or fair.
Use a small, stiff, angled brush to add definition to the brow with a powder brow color.  If you use a brow pencil, you can use this same style of brush to soften the lines made by the pencil. I prefer the brow powder over a pencil, but sometimes both are needed if your brows are extremely thin.  When using the pencil, make short, small strokes the same direction as your brows grow.  (You are trying to simulate the actual eyebrow hair).  Find a brow powder that matches the color of your hair.  Or, if you are a very light blonde, go a couple of shades deeper for added definition. Redheads sometimes have a hard time finding a reddish-brown brow powder, but there is a wider selection of colors available in eye shadows that can double as a brow powder. Just make sure the eye shadow is a matte shade and doesn't have any shimmer to it. Follow with a small amount of clear brow setting gel or spray on your brow brush to keep your brows in shape all day long.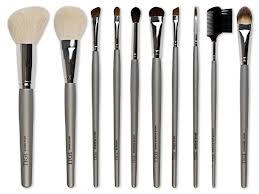 Keep a brow brush in your makeup bag. The perfect brush tool has angled, stiff bristles that are short and will allow you to brush the powder right into your brows. When you add the step of filling your brows with powder to your makeup routine, you'll be amazed at how extra polished and professional your makeup will look.
All of these items are available at our Salon. We will be glad to help you with your color selection and even an in house makeup lesson.  Just call 405-238-3426 or drop by Penny Miller Cosmetology Academy for a consultation.