Welcome Aboard!
 Our Fall Term will be so much fun with the addition of two new members to our team at Penny Miller Cosmetology Academy.
We welcome, Morgan and Chade, two young and energetic ladies with a desire to learn all they can learn about the field of hairdressing and cosmetology.
We know these young ladies will enjoy their new field of study and will truly be assets to the cosmetology field.
Other News…..Keeley Rose has graduated her course in Nail Technology, has taken her board exams and will soon be receiving her license in Manicuring!  Way to go Keeley!  Job Well Done!  Keeley was such a blessing to teach, and is such a caregiver,  I know she will do wonderful in this profession!
[slideshow_deploy id='1361′]
Where are they Now????  Check out the latest news about our Graduates…..
April Shreve is now married, new name April Ulloa, and is working in her Salon, High Maintence, with her friend Ashley Frost, here in Pauls Valley, OK.
Heather Dilbeck is working in Pauls Valley at Imagine Salon, and loving it!
Ashlee Hines is working at the Pink Diva in Wynnewood.
Teresa Winnett has opened her own Barber Style Salon in Pauls Valley, see what she is up to at "T's".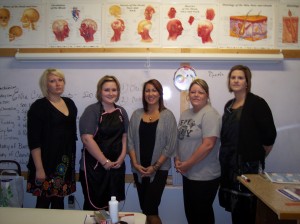 All of our girls are doing fabulous in Garvin County.  Drop by and see them and tell them we sent you in.
Check back later for more updates.
Do you know a recent graduate from P.M.C.A?  Share your stories with us and we will be glad to post information on any of our graduates.
Hope to see you soon,
Have a Blessed Day,
Penny Miller and all the Girls from P.M.C.A.