Are You ready for a New Look?
We are here for YOU!
Hair, Nails and Makeup!
We can help you with ALL Your beauty needs.
Simple or complex.  Quick Service or a Relaxing Visit.  We have a full range of beauty services to fit your needs.
You no longer have to go out of town to receive the full service you deserve.
Facials…… Wonderful experience to help your skin and de-stress you after all of the holidays.
Manicures……Just the ticket to help your hands after dealing with this harsh winter weather!
Pedicures…….What can we say but, WONDERFUL!
SPA SERVICES ARE FOR EVERYONE!
Women, Men and even Children enjoy the calm, relaxing environment, when receiving a luxury service.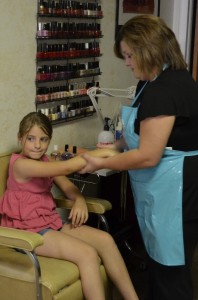 Hair Color, Cuts and Styling for the Entire Family!
Don't forget the Guys….They need to be pampered too!
Take years off with a simple, quick 5 minute color for men!
What more can you ask for?
Give us a call – 405-238-3426 and make an appointment, and be on your way to a New You for the New Year!  Enjoy!
Friend us and follow us on facebook for daily & weekly specials!